School of Foreign Languages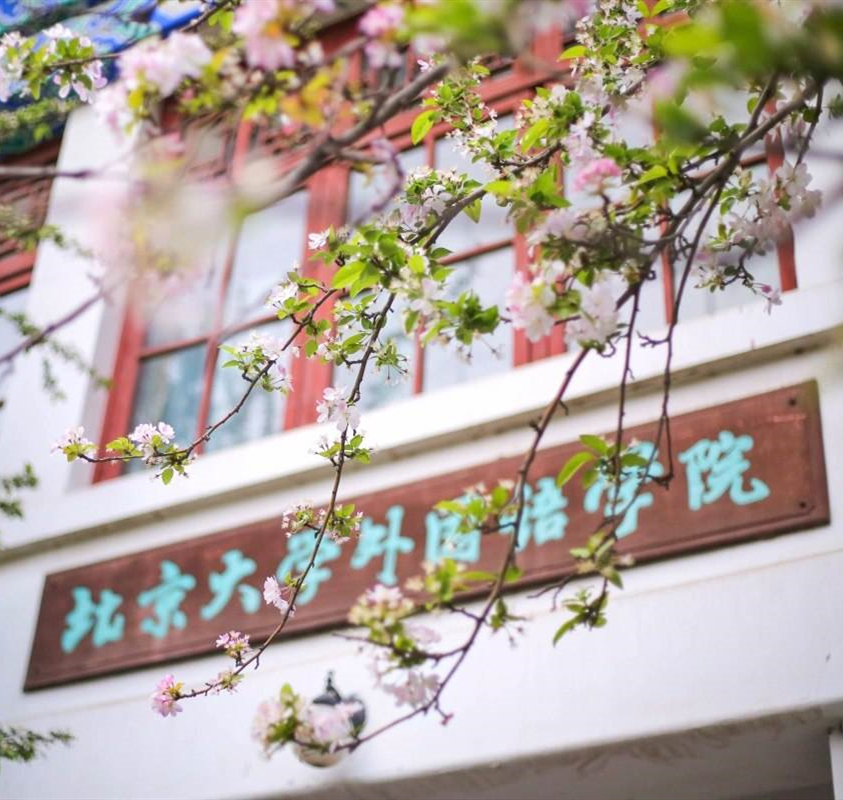 General Information
The origin of the School dates back to the establishment of Jing Shi Tong Wen Guan (the School of Combined Learning) in 1862. It was later (in 1902) incorporated into Jing Shi Da Xue Tang (the Imperial University of Peking). The latter, later known as Peking University, was founded in 1898 and once offered courses in English, French, German, Russian and Japanese. 1919 and 1920 witnessed the establishment of the Departments of English, French, German and Russian Literature- -nearly a quarter of all departments at Peking University. The program of Japanese language and literature was started in 1924,which later became a component of the Department of Oriental Languages and Literature established in 1946. In 1952Peking University reorganized its foreign language departments into three divisions: Western Languages and Literature, Russian Language and Literature, and Oriental Languages and Literature. Then, in 1983, the English department became independent of the Department of Western Languages and Literature. In1999, all these departments were incorporated into the School of Foreign Languages (SFL).
SFL, historically strong in literary studies, has come to cover a wide array of fields and disciplines in its research and curricula, which encompass literature, linguistics, cultural studies, regional studies, foreign religions, and ancient civilizations. By assimilating the finest elements of foreign cultures and conducting in-depth research, SFL has achieved academic excellence whilst building a bridge between nations.
The training at SFL prepares graduates for a top-level academic career or a successful professional life. Over the past decades, SFL has turned out a large number of graduates who have played prominent roles in society as renowned scholars, senior diplomats, high-ranking officials, entrepreneurs and competent professionals in various other fields and occupations.
As SFL expands the range of languages and disciplines in its curricula, it also aims at higher quality in its teaching and research, and better service for society.
In SFL, there are altogether twenty languages in which undergraduates may major, including English, Russian, French, German, Spanish, Portuguese, Japanese, Arabic, Mongolian, Korean, Vietnamese, Thai, Burmese, Indonesian, Filipino, Hindi, Sanskrit and Pali, Urdu, Persian, and Hebrew.
At present, students may also seek master' S and doctoral degrees in eleven academic programs, or they may pursue professional degrees at the M.A. level with a major in Chinese-English translation, or Chinese-Japanese translation and interpretation.
The curricula of SFL are designed to enable students to acquire in-depth knowledge in the literature, history, culture, politics, and economics of the target languages, countries or regions, and to instill in the man international vision and a strong sense of social responsibility. A solid theoretical foundation combined with strict vocational training give students a high level of language proficiency and intercultural competence, which ensure their success when they enter the workforce.
To this end, students majoring in a foreign language are required, beyond the core courses of their majors, to take a number of general education courses in the humanities. The School of Foreign Languages seeks to broaden the horizons of the students by taking advantage of the university' s multi-disciplinary resources and by providing students with opportunities for overseas study.
Departments, Institutes and Centers
1. Department of Arabic Language and Culture
The history of this department goes back to the Program of Arabic Language and Culture established in 1946,the first of its type in China's universities. It offers bachelor's, master's and doctoral level education, and covers the teaching and research fields of Arabic Language, Arabic Literature, Arabic Islamic Culture and Middle East studies. Over the past fifty years, the department has been home to outstanding graduates thriving in areas like foreign affairs, international trade, cultural exchange, management, news agencies, publishing, language teaching, foreign studies, etc.
2. Department of Korean Language and Culture
The origin of the Korean department dates back to the establishment of the Korean Language Program in 1945,the earliest of its type in China's universities. The department attaches great importance to the training of basic language skills and provides students with opportunities to study in the two Koreas. The primary objective of this department is to lay a solid foundation for students' future careers as well as instilling a great work ethic in them. Our alumni take jobs in a variety of institutions including universities, think-tanks, foreign affairs departments, international businesses, cultural industries, news agencies, publishing houses, and others, making crucial contributions to the development of Korean Studies and Sino-Korean relations.
3. Department of German Language and Literature
The research interest of this department ranges from the writers and literary works of Germany and other German-speaking countries, and the history and criticism of German literature, to the history of Germany and its culture. Led by prominent scholars and translators like Feng Zhi, Tian Dewang and Yang Yezhi, etc., and with generations of endeavors, the department has become a generator of first-class German literature teaching, research and translation in China. Graduates from this department take jobs in government agencies, research institutes, universities, foreign companies, etc., and have made great achievements in literacy, academic, economic and political circles.
4. Department of Southeast Asian Studies
This department offers courses in five languages and cultures - Thai, Burmese, Vietnamese, Indonesian and Filipino. Three research institutes are affiliated with the department, specializing in regional studies of Southeast Asia, Thailand and Indonesia-Malaysia respectively. The department enjoys a good academic reputation in China through its leading of various academic conferences and government research programs, as well as its publishing of numerous high-quality scholarly works, translations, textbooks and dictionaries. Graduates from this department have successful careers in public service, publishing, businesses, teaching, scholarly research, etc.
5. Department of Russian Language and Literature
The curriculum of the Russian department is designed to provide students with comprehensive background knowledge of Russian language and literature. In addition to the undergraduate pro-gram, the department also offers masters and doctoral level education in areas of Russian literature, linguistics, translation, culture and comparative literature, etc. Elite faculty members work as a team, making the department a locus of prolific groundbreaking research and forming the backbone of Russian literary and linguistic studies in China. Our graduates typically find employment in government agencies, news agencies, cultural industries, publishing, finance, and other areas.
6. Department of French Language and Literature
The curriculum of the French department is designed to develop proficiency in the French Language as well as an understanding of French literature and the culture and history of French-speaking nations. These courses help students acquire the necessary knowledge and skills for careers in government agencies, research institutes, universities or businesses. At the graduate level, students may pursue master's or doctoral degrees specializing in linguistics, literature, or translation. The department hires long-term French instructors from ENS Paris and ENS Lyons, and maintains close collaborative relationships with universities in France, Switzerland and Canada, through the exchange of scholars or students and joint doctoral degree programs.
7. Department of South Asian Studies
The Department of South Asian Studies offers courses in six languages, namely, Sanskrit, Pali, Hindi, Urdu, Bangali and Tibetan (although the last is not considered a foreign language). Faculty research also involves some other ancient and modern languages, such as middle Iranian, Khotanese, Tocharian, etc. Main research interests of the faculty cover ancient Indian philology, Sino-Indian cultural exchange, Buddhist history and literature, modern philology of Southern Asia, South Asian religion, South Asian culture, and regional studies of Southern Asia. The department boasts these fruitful areas of research and renowned scholars such as Ji Xianlin, Jin Kemu and Liu Anwu, etc. Indian Language and Literature is now a national key discipline.
8. Department of Japanese Language and Culture
The Department of Japanese Language and Culture was the earliest of its kind in China's universities, covering areas of Japanese Language, literature and cultural studies leading to bachelor's, master's and doctoral degrees. All faculty members hold a doctoral degree and have benefited from overseas study or research, and visits to Japan. With rich teaching and research experience, they are shaping the frontiers of their fields. Since 2012, the department has been offering a two-year master's degree program that specialized in the training of translation professionals.
9. Department of Spanish and Portuguese Languages and Literature
The Programs for Spanish and Portuguese study in this department were established in 1960 and 2007 respectively. The department's language courses are designed primarily to prepare students for translation and interpretation tasks in foreign affairs, business, international exchange, publishing, etc. Apart from the bachelor's degree, the department offers master's and doctoral degrees in Spanish and Latin American literature as well. Faculty and students have opportunities for overseas study or visitation through exchange programs with universities in Spain, Mexico, Cuba, Columbia, Peru, Brazil, and other places. In 2018, through joint efforts between our department and the Universidad de Granada, a Confucius Institute was inaugurated in Spain, aiming to promote Chinese culture and introduce PKU to that part of the world.
10. Department of West Asian Languages and Cultures
The department was established in 2009, growing out of several programs of the former Department of Oriental Studies. It comprises three teaching and research units: Persian Language and Culture, Hebrew Language and Culture, and Ancient Oriental Studies. The department offers modern Persian and Hebrew courses to under-graduates. Students with appropriate training in their undergraduate education may pursue graduate studies at the M.A. level with a major in Hebrew language and culture, Hebrew Biblical study, or West Asian Art, at both M.A. and doctoral levels with a major in Asian-African languages and literature (Persian language and literature, history and culture of Iran) or ancient oriental Civilization Assyriology, Hittite studies).
11. Department of Asian-African Languages and Literature
This department was established in 2009, Departing out of several programs of the former Department of Oriental Studies. It consists of two teaching and research units: Mongolian Language and Culture, and Oriental Languages and Literature. Undergraduates take courses in modern Mongolian language. The Unit of Mongolian Language and Culture is the first of its type in China's universities to undertake teaching and research on the Mongolian Cyrillic, and Khalkh dialect (the official language of Mongolia). The graduate programs confer master' s and doctoral degrees in Asian-African Languages and Literature, covering majors such as oriental literature, Mongolian language and culture, cross -border linguistic sand comparative studies of Man-Tungusian languages. The language courses for graduate students include Manchu, Swahili, Hausa, Amharic, lgbo, and others.
12. Department of English Language and Literature
Since its establishment, the Department of English Language and Literature has continued to flourish thanks to the steady assiduous efforts of the faculty and its deep commitment to the educational traditions of Peking University. It remains a national key discipline now. Aside from the acquisition of basic language skills, the department attaches great importance to the cultivation of students' interest in literature and other cultural forms of British and American origin, and building on this foundation, a critical perspective on language, literature and culture in general.
The programs of College English and Graduate English were started in the 1950s. They offer non-English majors a variety of general English courses, cross-cultural communication courses, and courses for specific purposes. The objective of these courses is to build students' language proficiency and intercultural competence, as well as fostering refined cultural tastes and a high level of motivation to study. All these assets enhance general competency, whether students are engaged in their studies or international communication, or seeking job opportunities. The Department's Integrated College English Courses were awarded National Quality Curriculum recognition in 2005.
13. Institute of Linguistics and Applied Linguistics
This Institute was founded in 2010 and a year later began to enroll postgraduates in linguistics and applied linguistics at both MA and PhD levels, specializing in theoretical linguistics, sociolinguistics or modern foreign language education. The Institute is committed to training students to be competent specialists with a solid theoretical foundation in linguistics and its related fields. It further equips students with systematic research skills and a clear vision of new research frontiers. The Institute has long been a leader in China's linguistic research.
14. Institute of World Literature
The Institute is dedicated to promoting multi-disciplinary, cross-cultural and historically self-reflective studies of world literature in a broad sense. It mainly aims to train students to be teachers, researchers or editors in the fields of comparative literature, world literature, translation and comparative cultural studies. Our alumni also play active roles in the fields of world culture, international communication, the media, and cultural resource management. Since 1986,the Comparative Literature and World Literature pro-gram, as a national key discipline, has been enrolling master's candidates, and has granted degrees to over 100 students. From 2008,the Institute began to enroll doctoral candidates specializing in world literature, cross-cultural studies, translation and comparative cultural studies, or western poetics and comparative poetics.
15. Peking University MTI Education Center
The MTI (short for Master of Translation and Interpreting) Education Center is a master's degree program that specializes in the training of translation professionals. Founded in 2007, it is among the first 15 institutions officially approved by the Commission of Academic Degrees of the State Council to offer courses in this area on an experimental basis. By making full use of its multi-disciplinary resources, the Center provides students with systematic vocational education and rich professional experience. It aims to train elite managerial personnel with both translation and management kills which are in high demand in today' s job market.
Research
The main research fields in the SFL include foreign languages, literatures, cultural studies, and regional studies. The SFL faculty team, led by eminent scholars, comprises a wide range of senior and junior faculty from across disciplines. They have made remarkable achievements in inter disciplinary studies and international exchange programs, garnering numerous research grants and awards. According to the QS World University Ranking by Subject released in 2015, SFL's Modern Languages, Linguistics and English Language and Literature programs were ranked 5th, 14th, and 35th respectively among the world's top universities. First-rate research in these areas has won SFL high prestige within and outside China.
List of Research Institutes/Centers in SFL:
· Center for European and American Literature
· Academy of Oriental Studies
· Center for Regional and Country Studies
· Language Center
· Institute of World Theater and Film Institute of Linguistics and Applied Linguistics
· Center for German Studies
· Middle East Studies Center
· Center for Buddhist Literature and Art
· Center for Korean Peninsular Studies
· Center for Middle Ages Studies
· Centre for World Auto/Biography
· Institute of Arabic-Islamic Culture Studies
· Institute of Korean Culture Studies
· Center for Southeast Asian Studies
· Sirindhorn Center for Sino-Thai Science
· Technology and Culture Exchange
· Institute of Thai Studies
· Institute of Indonesian and Malaysian Cultures
· Institute of Russian Culture Studies
· Center for French Culture Studies
· Center for French Language and Culture
· Center for Pakistan Studies
· Center for India Studies
· Institute of Sanskrit Manuscripts and Buddhist Literature
· Center for Japanese Culture Studies
· Center for Brazilian Culture Studies
· Center for Spanish Studies
· Institute of Hebrew and Jewish Culture Studies
· Center for Iranian Culture Studies
· Center for Mongolian Studies
· Institute of English Language and Literature
· Institute of English Education
· Center for Australian Studies
· Center for Canadian Studies
· Center for New Zealand Studies